Discussion Starter
·
#1
·
Myself and 5 buddies headed up to Lake Nipissing this weekend for our annual ice fishing weekend. We headed up on Friday Morning and were at the cabin by around 10 AM. The weather was overcast and there was no wind at all. Ice ranged from around 18 inches to over 2 feet in some places. Lots of sleds and trucks were driving all over the ice. We weren't too far from Powassan.
We unloaded our gear and supplies and brought a few extra comforts from home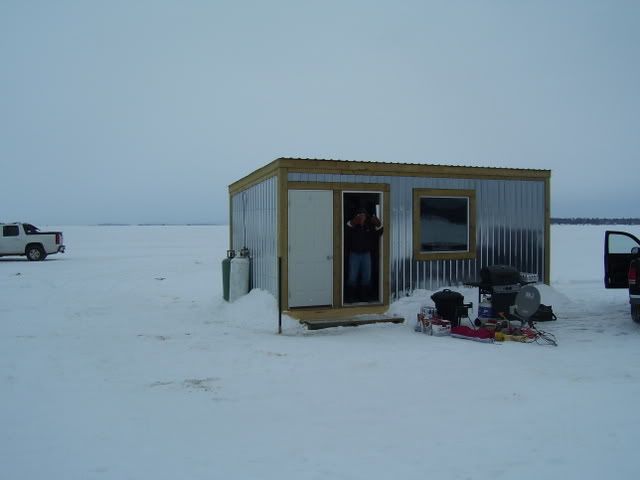 We rented from Chilly Willy's. Cabins were alright but a tad small for 6 guys.
In the first hour, I caught a pike on a cleo tipped with a minnow but he was a bit small so back he went. Pic was taken but not with my camera. We had a few bites for the rest of the day but the fish were not aggressive.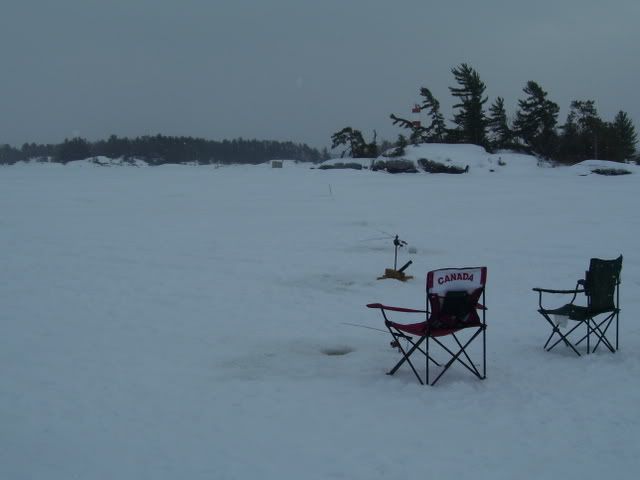 On Saturday we caught a walleye and jumbo perch (both on tip-ups with minnows on spreaders). Again a very finicky and infrequent bite.
While we were sitting in the cabin, one of the guys asks where one of the tip ups went. :???: He takes a walk out and all of a sudden starts running toward one of the holes. The tip-up had been pulled right into the hole with just the base showing :w00t:
He yells for someone to bring his gloves as he's got a huge pike. We got out there and he is freaking. Two of the them got a good look at him as he passed by the hole but.....
....you know what's coming.....All of a sudden "snap"
. Fish gone. Needless to say my buddy was not to impressed.
Sunday morning we had breakfast and a small fish fry. Fortunately one of the guys brought up a frozen Lake trout so we had him, the walleye and the perch for at least a taste of fish.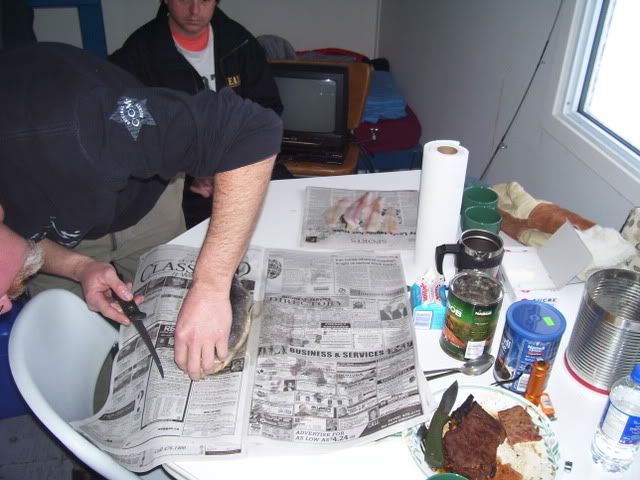 While we were finishing up our snack, one of the lines goes off in the shack and we caught one of these guys...a Mudpuppy.
:dunno: This is the first one I have ever seen in person and they are the ugliest thing I have ever seen.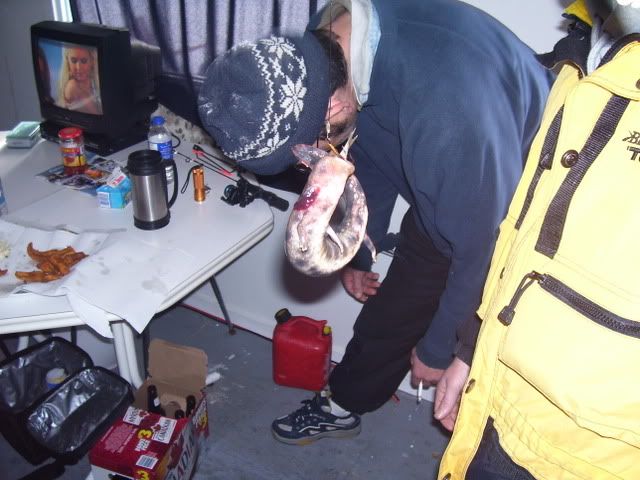 We ended up getting one more of them as well. Even though we didn't catch alot of fish it was sure a great time
and a tradition that will certainly continue.