:: Tournament Results
When: 2/26/2012
Time: 7-3
Where: Boone Lake
Blast off from: Winged Deer Park
Entry Fee: $
Here are the results from Sundays opener. Thank you to all the Sponsors and participants.
Big Fish went to Jim and Corey Neece with a 6.6lb Largemouth for $175.00.
1st: Guy Sams and Travis Lilly
18.03lbs
$500.00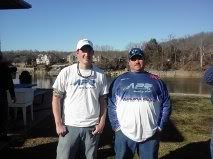 2nd: Tom Hensley and Brad Snapp
15.86lbs
$350.00
3rd: Kevin Powers and Andy Burnette
14.88lbs
$200.00
4th: Wayne Coppage and Darby Dye
14.34lbs
$100.00
5th: Brandon White and Travis White
14.32lbs
$100.00
6th: Brian Leonard and Benny Neal
13.69lbs
$60.00
Thanks again everyone. Our next tournament will be held at South Holston Lake on March 11, 2012 at 421 boat ramp from 7:00 am until 3:00 pm. Spread the word, be safe and happy fishin.